---
October 27, 2020
From

2:00 pm
To

3:00 pm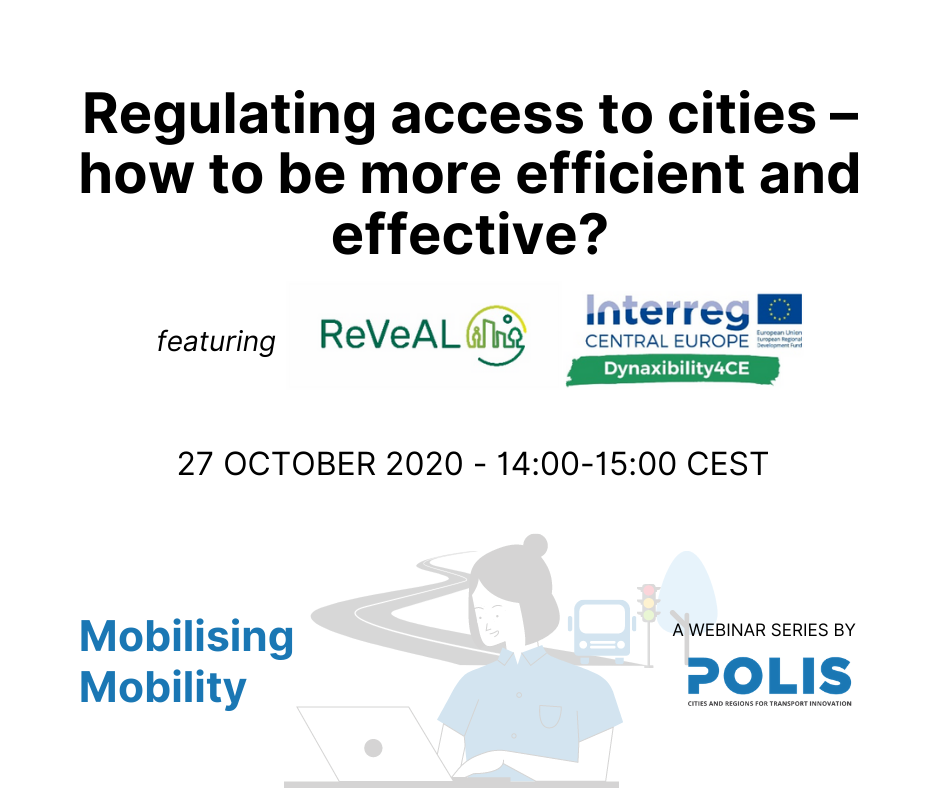 Urban Vehicle Access Regulations are now established in most European cities: pedestrian zones, low-emission zones…the list goes on!
They make cities a better place, but also require some understanding from visitors by car or truck. The webinar addresses how UVARs are evolving, exploring what cities (and the EU) are doing to make these zones more understandable (and thus more efficient) to use. Speakers will examine how UVARs can be more effective to reach mobility and environmental goals. 
This webinar was moderated by Ivo Cré.
The webinar was a Polis initiative in cooperation with the projects ReVeAL, UVARBOX and Dynaxibility. The webinar was part of the POLIS webinar series Mobilising Mobility.
___________________________________
About ReVeAL, UVARBOX and Dynaxibility
ReVeAL (Regulating Vehicle Access for Improved Liveability) aims to undertake concrete action with regards to 'smarter Urban Vehicle Access Regulations' (UVAR). The project aims to enable cities to optimize urban space and transport network usage through new and integrated packages of urban vehicle access policies and technologies for the benefit of people living in these cities, in sense of reductions of emissions, noise, increased accessibility and quality of life. The project combines desk research and case study research with hands-on UVAR implementation in six pilot cities: Helmond (NL), Jerusalem (IL), London (UK), Padova (IT), Vitoria-Gasteiz (ES) and Bielefeld (DE).
UVARBOX is a newly awarded EU Project, established to tackle fragmented or unavailable information on up to date and relevant UVARs (Urban Vehicle Access Regulations). The project, launched in association with POLIS Network, will provide tools to structure data on UVARs in adequate machine-readable formats for navigation systems and mobile applications.
Dynaxibility aims to increase the ability of public transport authorities to deal with these new trends by developing strategies and tools for public transport authorities that strengthen their planning capacities and thereby make them key actors for creating low-carbon and low-pollution mobility systems in our cities and regions. This will be achieved by using seven case study cities: Leipzig (CAD), Stuttgart (CAD), Graz (CAD/MaaS), Budapest (MaaS), Parma (UVAR), Koprivnica (MaaS) and Krakow (UVAR).